Shop Our Most Popular Products:
Products we use ourselves and proudly recommend.
Why do we trust and use Dr Love products?

Made in the USA - Quality and consistency matter when choosing CBD products, or anything else you bring into your body and home. Dr Love CBD products are not only produced in the USA, but made from high-quality American-grown hemp.
Third-Party Tested - To ensure the highest quality and safety, we third-party test every product. Our testing certificates are even available for review, should you want to review them.
More For Your Money - We strive to give Dr Love CBD buyers the best dollar-per-milligram pricing on safe, tested, high-quality CBD products. CBD is medicine, and we keep our prices as low as possible by skipping athlete endorsements or massive ad campaigns. We encourage shoppers to visit CBD price comparison sites to evaluate for themselves.
Education + Support - Dr Love CBD product specialists are always a click away through chat, email, and even Facebook. We're also happy to give you a call if you prefer the phone!
60-Day Guarantee - We believe in our products so much that we want you to try them risk-free for 60 days! Give us a fair 60-day try, and if you're not happy, we'll make it right! See our FAQ for details.

Free Shipping - To provide you even greater savings, we offer free shipping on all purchases in the continental USA over $100.
We're on a mission to remove the barriers to better health.
Dr Love CBD brings you therapeutic-dose CBD products infused with traditional scientifically tested ingredients. Medication with proper levels of the active ingredients you need, without breaking the bank or settling for less than your body and mind deserve.

Our specialized CBD products and programs bring you all-natural Relief, Rest, Balance, and more for the lowest possible price.
"Using the Relief capsules for about a week now - and let me tell you - every pain I've had has been relieved. CBD has a lot of misconceptions, but as a law student I can proudly say it's definitely a product I feel safe using."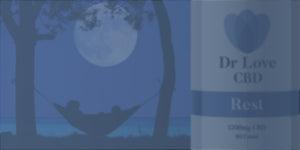 "The Rest capsules are easily my all time favorite sleep supplement! Tailored blend of melatonin, valerian root and CBD helps me not just fall asleep, but stay asleep - and feel rested and ready to go in the AM."
"I love this product. In contrast to many anti-anxiety medications I've taken over the years, the Balance CBD formula offers a natural alternative that works harmoniously with my mind and body."
Need Guidance? We Can HELP.
Bloom Programs
If you're new to CBD, would like to take a more thorough approach to your condition, or just want a little extra value out of your order, then our Bloom complete programs may be right for you. 
Each Rest, Relief, and Balance box comes with a two-month supply of CBD + supplements, a detailed program guide, and a tracking journal. 
Find Your Program
About Us
Interested in learning more? As a doctor-designed brand, we'll give you an honest overview of how we use CBD as a wellness tool.
Read More
Dr Love Monthly Mailing List Signup!
Join us for instant access to downloadable guides, plus a discount code for your first order.

We won't spam you.